About Us
China Town ( E14 ) is a Chinese takeaway in London. Why don't you try our (Main) or (Main)?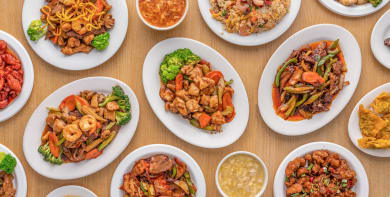 Reviews
380 reviews
Zahid
"Very tasty,yummy foods and on time delivery.Reommend it."
01/03/2021
Darita
"Food tasted great, portion sizes and price not so great"
26/02/2021
Nasima
"The food was amazing. Every dish was delicious with a very generous portion. Excellent"
08/02/2021
Paul
"Excellent delivery, very understanding of these time we live in. Great experience"
07/02/2021
Menu
Beef & Chicken with Cashew Nuts
£7.00
King Prawn with Cashew Nuts
£7.50
Vegetables with Cashew Nuts
£6.00
Vegetables with Pineapple
£6.00
King Prawn with Pineapple
£7.50
Beef & Chicken with Pineapple
£7.00
Beef & Chicken with Mushrooms
£7.00
King Prawn with Mushrooms
£7.50
Vegetables with Mushrooms
£6.00
Squid with Black Pepper Sauce
£6.50
Special with Black Pepper Sauce
£7.50
Vegetables with Black Pepper Sauce
£7.50
Shrimp with Black Pepper Sauce
£6.00
Fish with Black Pepper Sauce
£7.50
King Prawn with Black Pepper Sauce
£7.50
Chicken with Black Pepper Sauce
£6.50
Beef & Chicken with Black Pepper Sauce
£7.00
Beef with Black Pepper Sauce
£6.50
Crab Meat & Sweetcorn Soup
£3.50
Special with Fresh Tomato
£8.00
Meat in Lemon Sauce Chicken
£7.50
Meat in Lemon Sauce Crispy Beef
£7.50
Meat in Orange Sauce Chicken
£7.50
Meat in Orange Sauce Crispy Beef
£7.50
Fried Broccoli with Meat Beef
£7.50
Fried Broccoli with Meat Chicken
£7.50
Fried Broccoli with Meat King Prawn
£7.50
Chicken with Fresh Tomato
£7.00
King Prawn with Hot & Garlic Sauce
£7.50
Shrimp with Hot & Garlic Sauce
£6.00
Special with Hot & Garlic Sauce
£7.50
Vegetables with Hot & Garlic Sauce
£7.50
Chicken with Hot & Garlic Sauce
£6.50
Beef with Hot & Garlic Sauce
£6.50
Beef & Chicken with Hot & Garlic Sauce
£7.00
Roast Duck with Bamboo Shoots & Water Chestnuts
£7.50
Roast Duck with Bean Sprouts in Oyster Sauce
£7.00
Roast Duck with Black Pepper Sauce
£7.00
Roast Duck with Cashew Nuts
£7.00
Roast Duck with Ginger & Spring Onions
£7.50
Roast Duck with Green Pepper & Black Bean Sauce
£7.50
Roast Duck with Mushrooms
£7.00
Roast Duck with Pineapple
£7.50
Roast Duck with Plum Sauce
£7.50
Roast Duck with Szechuan Sauce
£7.50
Roast Duck with Vegetables
£7.00
Chicken with Szechuan Sauce
£6.50
Beef & Chicken with Szechuan Sauce
£6.50
Squid with Szechuan Sauce
£7.50
Special with Szechuan Sauce
£7.50
Vegetables with Szechuan Sauce
£7.50
King Prawn with Szechuan Sauce
£7.50
Shrimp with Szechuan Sauce
£6.00
(Main) Beef & Chicken Chop Suey
(Main) Beef & Chicken Curry, Creamy Mild
(Main) Beef & Chicken Curry, Hot
(Main) Beef & Chicken Curry, Medium
(Main) Beef & Chicken Green Curry Mild
(Main) Beef & Chicken Kung Po
(Main) Beef & Chicken Masman Curry
(Main) Beef & Chicken Red Curry
(Main) Beef & Chicken With Bamboo Shoots & Water
(Main) Beef & Chicken With Black Pepper Sauce
(Main) Beef & Chicken With Cashew Nuts
(Main) Beef & Chicken With Chilli Sauce & Sweet Basil
(Main) Beef & Chicken With Ginger & Spring Onions
(Main) Beef & Chicken With Green Pepper & Black Bean
(Main) Beef & Chicken With Hot & Garlic Sauce
(Main) Beef & Chicken With Hot & Sweet Sauce
(Main) Beef & Chicken With OK Sauce
(Main) Beef & Chicken With Oyster Sauce
(Main) Beef & Chicken With Pineapple
(Main) Beef & Chicken With Satay Sauce
(Main) Beef & Chicken With Szechuan Sauce
(Main) Beef & Chicken With With Mushrooms
(Main) Beef & Chicken Yellow Curry Mild
(Main) Beef Green Curry Mild
(Main) Beef Pa Dan Curry Mild
(Main) Beef With Bamboo Shoots & Water Chestnuts
(Main) Beef With Cashew Nuts
(Main) Beef With Chilli Sauce & Sweet Basil
(Main) Beef With Chop Suey
(Main) Beef With Ginger & Spring Onions
(Main) Beef With Green Pepper & Black Bean Sauce
(Main) Beef With Hot & Garlic Sauce
(Main) Beef With Hot & Sweet Sauce
(Main) Beef With Mushrooms
(Main) Beef With OK Sauce
(Main) Beef With Oyster Sauce
(Main) Beef With Pineapple
(Main) Beef With Satay Sauce
(Main) Beef With Szechuan Sauce
(Main) Beef Yellow Curry Mild
(Main) Cantonese Sweet & Sour Beef
(Main) Cantonese Sweet & Sour Beef & Chicken
(Main) Cantonese Sweet & Sour Chicken
(Main) Cantonese Sweet & Sour King Prawn
(Main) Cantonese Sweet & Sour Vegetables
(Main) Chicken Curry, Creamy Mild
(Main) Chicken Curry, Hot
(Main) Chicken Curry, Medium
(Main) Chicken Green Curry Mild
(Main) Chicken Masman Curry
(Main) Chicken Pa Dan Curry Mild
(Main) Chicken With Bamboo Shoots & Water Chestnuts
(Main) Chicken With Black Pepper Sauce
(Main) Chicken With Cashew Nuts
(Main) Chicken With Chilli Sauce & Sweet Basil
(Main) Chicken With Chop Suey
(Main) Chicken With Ginger & Spring Onions
(Main) Chicken With Green Pepper & Black Bean Sauce
(Main) Chicken With Hot & Garlic Sauce
(Main) Chicken With Hot & Sweet Sauce
(Main) Chicken With Mushrooms
(Main) Chicken With OK Sauce
(Main) Chicken With Oyster Sauce
(Main) Chicken With Pineapple
(Main) Chicken With Satay Sauce
(Main) Chicken With Szechuan Sauce
(Main) Chicken Yellow Curry Mild
(Main) Crispy Chilli Beef
(Main) Crispy Chilli Chicken
(Main) Crispy Chilli Fish
(Main) Crispy Chilli Prawn
(Main) Crispy Chilli Squid
(Main) Fish Curry, Creamy Mild
(Main) Fish Curry, Medium
(Main) Fish With Bamboo Shoots & Water Chestnuts
(Main) Fish With Black Pepper Sauce
(Main) Fish With Cashew Nuts
(Main) Fish With Chop Suey
(Main) Fish With Ginger & Spring Onions
(Main) Fish With Green Pepper & Black Bean Sauce
(Main) Fish With Mushrooms
(Main) Fish With OK Sauce
(Main) Fish With Oyster Sauce
(Main) Fish With Szechuan Sauce
(Main) King Prawn Curry, Creamy Mild
(Main) King Prawn Curry, Hot
(Main) King Prawn Curry, Medium
(Main) King Prawn Green Curry Mild
(Main) King Prawn Kung Po
(Main) King Prawn Masman Curry
(Main) King Prawn Pa Dan Curry Mild
(Main) King Prawn Red Curry
(Main) King Prawn With Black Pepper Sauce
(Main) King Prawn With Cashew Nuts
(Main) King Prawn With Chilli Sauce & Sweet Basil
(Main) King Prawn With Chop Suey
(Main) King Prawn With Ginger & Spring Onions
(Main) King Prawn With Green Pepper & Black Bean Sauce
(Main) King Prawn With Hot & Garlic Sauce
(Main) King Prawn With Hot & Sweet Sauce
(Main) King Prawn With Mushrooms
(Main) King Prawn With OK Sauce
(Main) King Prawn With Oyster Sauce
(Main) King Prawn With Pineapple
(Main) King Prawn With Satay Sauce
(Main) King Prawn With Szechuan Sauce
(Main) King Prawn Yellow Curry Mild
(Main) King Prawns With Bamboo Shoots & Water Chestnuts
(Main) Mushroom Curry, Creamy Mild
(Main) Mushroom Curry, Hot
(Main) Mushroom Curry, Medium
(Main) Roast Duck With Bamboo Shoots & Water Chestnuts
(Main) Roast Duck With Beansprouts In Oyster Sauce
(Main) Roast Duck With Black Pepper Sauce
(Main) Roast Duck With Cashew Nuts
(Main) Roast Duck With Ginger & Spring Onions
(Main) Roast Duck With Mushrooms
(Main) Roast Duck With Pineapple
(Main) Roast Duck With Plum Sauce
(Main) Roast Duck With Szechuan Sauce
(Main) Roast Duck With Vegetables
(Main) Shrimp Curry, Creamy Mild
(Main) Shrimp Curry, Creamy Mild
(Main) Shrimp Curry, Medium
(Main) Shrimp Curry, Medium
(Main) Shrimp Green Curry Mild
(Main) Shrimp Masman Curry
(Main) Shrimp Pa Dan Curry Mild
(Main) Shrimp Satay Sauce
(Main) Shrimp With Bamboo Shoots & Water Chestnuts
(Main) Shrimp With Black Pepper Sauce
(Main) Shrimp With Cashew Nuts
(Main) Shrimp With Chilli Sauce & Sweet Basil
(Main) Shrimp With Chop Suey
(Main) Shrimp With Ginger & Spring Onions
(Main) Shrimp With Green Pepper & Black Bean Sauce
(Main) Shrimp With Hot & Garlic Sauce
(Main) Shrimp With Hot & Sweet Sauce
(Main) Shrimp With Mushrooms
(Main) Shrimp With OK Sauce
(Main) Shrimp With Oyster Sauce
(Main) Shrimp With Pineapple
(Main) Shrimp With Szechuan Sauce
(Main) Shrimp Yellow Curry Mild
(Main) Special Cantonese Sweet & Sour Mix
(Main) Special Curry, Creamy Mild
(Main) Special Curry, Medium
(Main) Special Green Curry Mild
(Main) Special Masman Curry
(Main) Special Pa Dan Curry Mild
(Main) Special With Bamboo Shoots & Water Chestnuts
(Main) Special With Black Pepper Sauce
(Main) Special With Cashew Nuts
(Main) Special With Chilli Sauce & Sweet Basil
(Main) Special With Chop Suey
(Main) Special With Ginger & Spring Onions
(Main) Special With Green Pepper & Black Bean Sauce
(Main) Special With Hot & Garlic Sauce
(Main) Special With Hot & Sweet Sauce
(Main) Special With Mushrooms
(Main) Special With OK Sauce
(Main) Special With Oyster Sauce
(Main) Special With Pineapple
(Main) Special With Satay Sauce
(Main) Special With Szechuan Sauce
(Main) Special Yellow Curry Mild
(Main) Squid Curry, Creamy Mild
(Main) Squid Curry, Medium
(Main) Squid With Bamboo Shoots & Water Chestnuts
(Main) Squid With Black Pepper Sauce
(Main) Squid With Cashew Nuts
(Main) Squid With Chop Suey
(Main) Squid With Ginger & Spring Onions
(Main) Squid With Green Pepper & Black Bean Sauce
(Main) Squid With Mushrooms
(Main) Squid With OK Sauce
(Main) Squid With Oyster Sauce
(Main) Squid With Pineapple
(Main) Squid With Szechuan Sauce
(Main) Sweet & Sour Chicken Balls
(Main) Sweet & Sour King Prawn Balls
(Main) Sweet & Sour Squid
(Main) Vegetable Curry, Creamy Mild
(Main) Vegetable Curry, Hot
(Main) Vegetable Curry, Medium
(Main) Vegetable With Satay Sauce
(Main) Vegetables Green Curry Mild
(Main) Vegetables Kung Po
(Main) Vegetables Masman Curry
(Main) Vegetables Pa Dan Curry Mild
(Main) Vegetables Red Curry
(Main) Vegetables With Bamboo Shoots & Water Chestnuts
(Main) Vegetables With Black Pepper Sauce
(Main) Vegetables With Chilli Sauce & Sweet Basil
(Main) Vegetables With Chop Suey
(Main) Vegetables With Ginger
(Main) Vegetables With Green Pepper & Black Bean Sauce
(Main) Vegetables With Hot & Garlic Sauce
(Main) Vegetables With Hot & Sweet Sauce
(Main) Vegetables With Mushrooms
(Main) Vegetables With OK Sauce
(Main) Vegetables With Oyster Sauce
(Main) Vegetables With Pineapple
(Main) Vegetables With Szechuan Sauce
(Main) Vegetables Yellow Curry Mild
(Main) Beef & Chicken Pa Dan Curry Mild
(Main) Beef With Black Pepper Sauce
(Main) Fish With Pineapple
(Main) Roast Duck With Green Pepper & Black Bean Sauce
(Main) Special Curry, Hot
(Main) Vegetables With Cashew Nuts
Beef & Chicken Masman Curry
£6.50
Vegetables Thai Chow Mein
£5.50
King Prawn Thai Chow Mein
£7.00
Beef & Chicken Thai Chow Mein
£6.50
Beef & Chicken Thai Fried Rice
£6.50
King Prawn Thai Fried Rice
£7.00
Vegetables Thai Fried Rice
£5.50
Beef & Chicken Green Curry Mild
£6.50
King Prawn Green Curry Mild
£6.50
Vegetables Green Curry Mild
£5.50
Vegetables Red Curry Mild
£5.50
King Prawn Red Curry Mild
£6.50
Beef & Chicken Red Curry Mild
£6.50
Meal 1
Prawn crackers
Spring rolls (2)
Prawn toast (3)
Fried rice
Choose one dish from main menu
£13.50
Meal 2
Prawn crackers
Special combination starter for 2
Special curry
Beef with green pepper & black bean Sauce
Chicken fried rice (2)
£24.00
Meal 3 (For 3)
Prawn crackers
Special combination starter for 3
Sweet & sour chicken
King prawn with satay sauce (nuts)
Special curry
Yeung chow fried rice (3)
£31.50
Meal 4
Prawn crackers (2)
Special combination starter for 4
Sweet & sour chicken
Beef with ginger & spring onion
Special with cashew nuts (nuts)
King prawn chop suey
Yeung chow fried rice (4)
£41.00
Meal 5
Prawn crackers (3)
Spring rolls (5)
Prawn toasts (10)
Roast duck with plum sauce
Beef with mushroom
Special curry
King prawn Szechuan
Sweet & sour chicken balls
Beef chow mein
Egg fried rice (5)
£48.00
Haagen-Dazs Ice Cream
Please write your flavours in the comments box
£6.99
Ben & Jerry's 500ml Caramel Chew Chew
£6.99
Ben & Jerry's 500ml Chocolate Cookie Dough
£6.99
Ben & Jerry's 500ml Chocolate Fudge Brownie
£6.99
Ben & Jerry's 500ml Phish Food
£6.99
King Prawn with Chop Suey
£7.50
Vegetables with Chop Suey
£6.00
Bamboo Shoots & Water Chestnuts
£3.00
Special with Soft Noodles
£7.50
Vegetables with Soft Noodles
£6.00
Singapore with Soft Noodles
£6.70
Roast Duck with Soft Noodles
£7.50
Mushroom with Soft Noodles
£6.00
King Prawn with Soft Noodles
£7.50
Chicken with Soft Noodles
£6.50
Chicken with Crispy Noodles
£7.50
Special with Crispy Noodles
£7.50
Vegetables with Crispy Noodles
£6.00
Mushroom with Crispy Noodles
£6.00
King Prawn with Crispy Noodles
£7.50
Shrimp with Crispy Noodles
£6.50
Roast Duck with Crispy Noodles
£7.50
Beef & Chicken with Satay Sauce
£7.50
Vegetable with Satay Sauce
£6.00
King Prawn with Satay Sauce
£7.50
Beef & Chicken Fried Rice
£7.50
Squid with Green Pepper & Black Bean Sauce
£7.00
Special with Green Pepper & Black Bean Sauce
£7.50
Vegetables with Green Pepper & Black Bean Sauce
£6.00
Shrimp with Green Pepper & Black Bean Sauce
£7.00
Fish with Green Pepper & Black Bean Sauce
£7.50
King Prawn with Green Pepper & Black Bean Sauce
£7.50
Chicken with Green Pepper & Black Bean Sauce
£7.00
Beef & Chicken with Green Pepper & Black Bean
Sauce
£7.00
Beef with Green Pepper & Black Bean Sauce
£7.00
Beef with Ginger & Spring Onions
£6.50
Beef & Chicken with Ginger & Spring Onions
£7.00
Chicken with Ginger & Spring Onions
£6.50
King Prawn with Ginger & Spring Onions
£7.50
Fish with Ginger & Spring Onions
£7.50
Shrimp with Ginger & Spring Onions
£6.50
Special with Ginger & Spring Onions
£7.50
Squid with Ginger & Spring Onions
£7.50
Special with Oyster Sauce
£7.50
Vegetables with Oyster Sauce
£6.00
King Prawn with Oyster Sauce
£7.50
Chicken with Oyster Sauce
£6.50
Beef & Chicken with Oyster Sauce
£7.00
Sweet & Sour Beef - Cantonese
£7.49
Sweet & Sour Beef & Chicken - Cantonese
£7.50
Sweet & Sour Chicken - Cantonese
£7.00
Sweet & Sour King Prawn - Cantonese
£7.50
Sweet & Sour Vegetables - Cantonese
£7.00
Sweet & Sour Mix - Cantonese Special
£7.99
Sweet & Sour Chicken Balls
£8.00
Sweet & Sour King Prawn Balls
£8.00
BBQ Spare Ribs with Sauce
£6.00
Butterfly King Prawns in Butter
£7.50
Chicken Wings in BBQ Sauce
£5.00
Crispy Aromatic Duck Half
Served with pancakes, Hoisin sauce & salad
£18.00
Crispy Aromatic Duck Quarter
Served with pancakes, Hoisin sauce & salad
£10.00
Crispy Aromatic Duck Whole
Served with pancakes, Hoisin sauce & salad
£34.00
Crispy Chicken Spring Rolls (4)
£3.50
Salt & Pepper Chicken Breast
£6.50
Salt & Pepper Chicken Wings
£5.00
Salt & Pepper King Prawns
£7.50
Special Combination Starter
BBQ spare ribs, prawn on toast & spring roll
£7.50
Skewered Chicken with Satay Sauce
£6.00
Vegetable Spring Rolls (4)
£3.00
Sweet & Sour Chicken Wings
£5.00
Shrimp with Hot & Sweet Sauce
£6.00
King Prawn with Hot & Sweet Sauce
£7.50
Special with Hot & Sweet Sauce
£7.50
Vegetables with Hot & Sweet Sauce
£7.50
Beef & Chicken with Hot & Sweet Sauce
£7.00
Beef with Hot & Sweet Sauce
£6.50
Chicken with Hot & Sweet Sauce
£6.50
Chicken Curry Creamy Mild
£7.00
Beef & Chicken Curry Creamy Mild
£7.00
Beef & Chicken Curry Medium
£7.00
King Prawn Curry Creamy Mild
£7.50
Mushroom Curry Creamy Mild
£6.00
Special Curry Creamy Mild
£7.50
Vegetable Curry Creamy Mild
£6.00
Contact Us
Find Us
7 The Quarter Deck, London, E148SH
We deliver to
E1, E13, E14, E15, E16, E1W, E2, E20, E3, E6